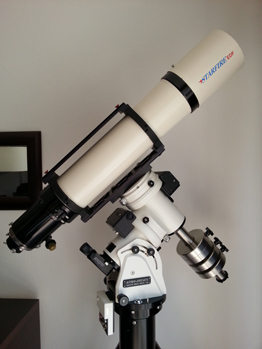 Equipment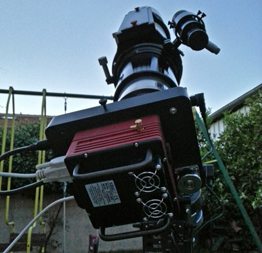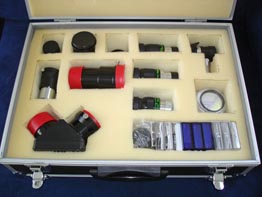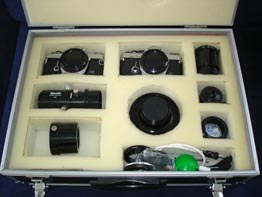 Where does this equipment come from ???
Astro-Physics 1100 GTO mount


After 10 years of flawless service, my trusty 900GTO has been replaced with the new 1100GTO mount. This successful new version offers many innovations and cleverness for increased performances in terms of tracking accuracy, rigidity, strength, load capacity and ergonomy. Its tracking and pointing accuracies are at the higher level.
Its low and ultra smooth periodic error allows troublefree long exposure times, which is very useful for narrowband imaging.
The mount is fitted on a Losmandy HD tripod using a specific interface. It allows easy levelling on eneven terrains.
It's fitted with the new RAPAS polarscope with outstanding performances.




Astro-Physics 155 f7 StarFire EDF refractor


This fine instrument perfectly fits my needs.
Not sensitive to poor seeing conditions, moderate
f /ratio, extreme image sharpness, lightweight, perfect and reliable mechanical quality, simple and efficient accessories make it a versatile and quickly operationnal scope.
The refractor is used for deep sky imaging in various configurations:
- at f 7.3 with the field flattener.
- at f 5.25 with the 27TVPH photovisual telecompressor.
- at f 5.3 with the 155TCC telecompressor corrector for large chips.






The CCD cameras


I am currently using a SBIG STT3200ME camera with a FW8G filter wheel, and Baader L, Ha 7nm, UHC-S L, and IDAS LPS-P2 filters.






The visual and photographic accessories

After a lot of practice, I greatly reduced my range of accessories.

I kept:
- one Astro-Physics Maxbright diagonal.
- one Astro-Physics photovisual Barcon.
- a few eyepieces.
- one guiding eyepiece.
- some filters for deep sky and planetary work.


For imaging, I also use:
- a field flattener for the refractor.
- two different telecompressors.
- a Baader FFC.
- various adapters for 35mm, 42mm, webcam, CCD imaging...
- one tele-extender.
- various T rings.





The computer

The ASUS N750JK-T4106H is a powerful, reliable laptop, that fits well my imaging needs. It handles very well humidity and cold nights temperatures.










Texte et images non utilisables sans demande préalable
---
To see my previous equipment visit here